Dental treatment under general anesthesia can only be performed in dental clinics that have received special approval from the Israeli Ministry of Health.
Dr. Alexander Averbuch's Dental Clinic in Rishon Lezion is proud to provide patients with dental care under general anesthesia and holds all the necessary approvals from the Ministry of Health as well as professional medical staff prepared to treat patients suffering from anxiety and problems that prevent them from undergoing dental treatment in other ways.
Dental treatments under general anesthesia help many patients achieve painless results
Who needs dental treatment under general anesthesia?
Does dental treatment under general anesthesia involve pain?
Is dental treatment under general anesthesia dangerous?
How to prepare for treatment and how is the anesthesia performed?
How does dental treatment under general anesthesia feel?
What dental treatments can be done under general anesthesia?
For whom dental treatment under general anesthesia is not recommended?
What to do after treatment?
There are a variety of reasons why patients undergo dental treatment under general anesthesia. For your convenience, we have gathered all the information that will guide you to ask the right questions and make important decisions.
Who needs dental treatment under general anesthesia?
Whether it is due to a physical, or a mental condition, there are a variety of reasons that prevent patients from undergoing dental treatment under local anesthesia:
#1 Patients undergoing complex surgeries such as dental implants or sinus lifts:
There are cases in which surgeries need to be performed under full anesthesia of the patients, whether it is because of the patient's will or because of an existing medical need that the dentist recognizes before starting the medical procedure.
Of course, not all cases of sinus lift surgeries or dental implants need to be performed under anesthesia, but there are quite a few cases where the need exists. Therefore this option is available to all patients in our clinic once they are medically fit.
Full anesthesia in surgery is a common practice nowadays and many patients choose this option since it is a convenient alternative: all you have to do is just go to the dentist's clinic, have the surgery and leave with a new set of ready to use teeth, without feeling the procedure.
#2 Patients suffering from dental anxiety
Surveys show that approximately 60% of all patients suffer from some sort of dental anxiety.
5-10% of the adult population suffer from dental phobia. For them it is real anxiety. This anxiety is extensively documented in the medical literature. In exceptional cases this dental phobia is treated with suited medication.
Patients who suffer from anxiety and stress before dental treatments are the right candidates for dental treatment under general anesthesia. These patients cannot undergo dental treatment without full anesthesia, so this treatment is the only alternative for treating their dental problems.
In addition, due to the patient's dental phobia, these patients avoid going to dentists for longer periods of time, which usually complicates their dental situation and leads to more complex treatments due to years of neglect.
In situations of dental anxiety, it is advisable to meet with a dentist to discuss and decide on the most appropriate channel of treatment. I am available for advice and guidance or for any question you may have.
#3 In cases when local anesthesia is not effective

Local anesthesia is the most common method of anesthesia, it works in 97% of cases. However, there are special cases where patients develop high tolerance to anesthesia or cases that the anesthetic does not work. This may occur in patients who take daily medication which contains similar ingredients to the anesthetics (like Psychiatric medication or sedatives).
Therefore, in these cases, dental treatment under general anesthesia should seriously be considered. In addition, patients who are allergic to the local anesthetic's ingredients should too be treated with special anesthetics or full anesthesia.
#4 In cases of external trauma
In cases of external trauma, the patient comes to the dentist's clinic when he is already stressed and usually in pain. General anesthesia is one of the options for treating external trauma and in cases of severe injury, it is also the only treatment option. Before treating trauma, performing a panoramic x-ray of the entire affected area is necessary in order to discover the scope of the injury.
In most cases the treatment is completed by the dentist, however there are cases where the injury involves multiple systems and requires the intervention of additional specialists. In case as such full anesthesia is to be considered.
#5 In cases of mental or motor disability
There are patients who cannot undergo dental care under regular conditions due to problems that do not allow them to control their motility and impulses. Their inability to control these impulses usually endangers them during treatment. In these cases it is common to see tooth neglect due to their continuous non-treatment habits. This neglect usually requires longer and more extensive treatments.
#6 In cases of sensitive gag reflex
Some patients are unable to undergo dental treatments due to hypersensitivity in their mouth or a very sensitive gag reflex. In these cases, the only option is general anesthesia, mainly because of the physical problem resulting from the reflex and also because these patients suffer from neglect and their treatment is usually more complicated.
I am convinced that you have many questions and would like to know more about the treatment, the process and its results. Therefore, we have organized common questions and answers that patients usually ask so that you can understand the general procedure even before you contact our dental clinic:
Does dental treatment under general anesthesia involve pain?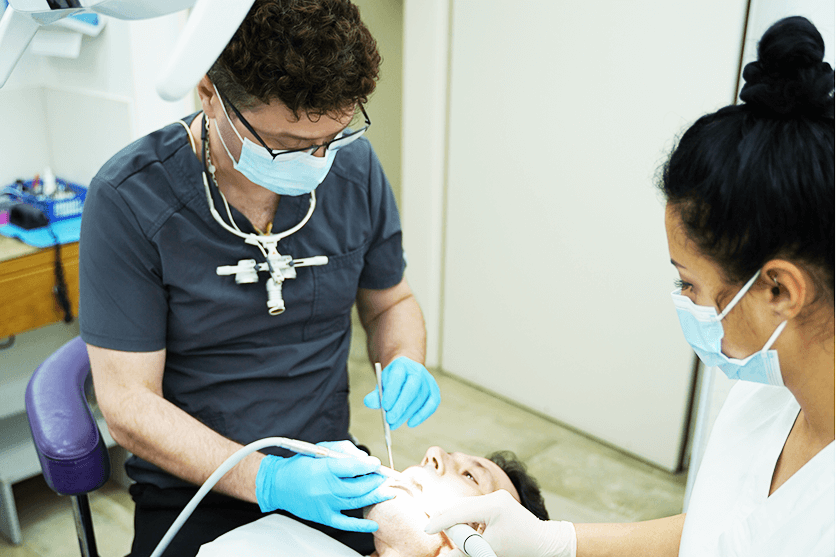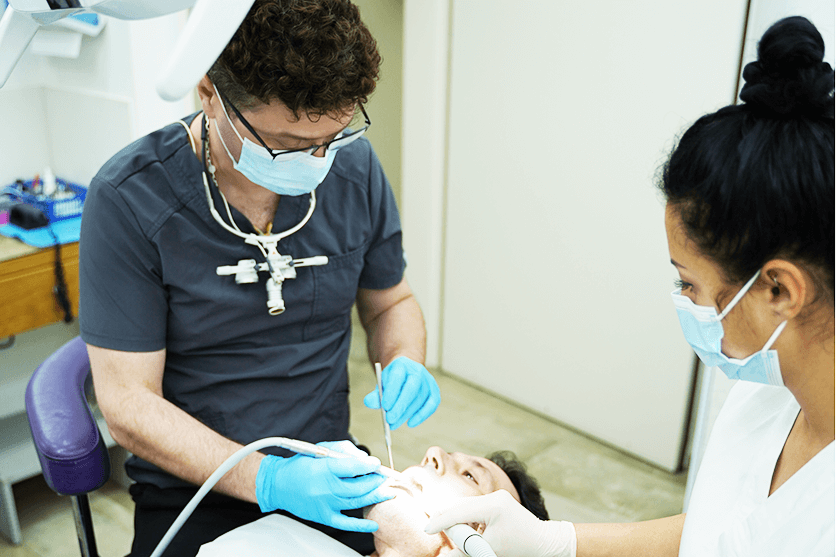 Because of the nature of the treatment, full anesthesia is given to patients who are in pain or are unable to undergo dental treatment under local anesthesia for any possible reason. The anesthesia itself is not painful. Other than a prick while inserting the infusion you will not feel any pain during the procedure. Sometimes the treatment may involve intensive surgical intervention and may require pain killers after treatment.
During treatment, the dentist decides on the accurate amount of anesthetic to use during the operation according to the patient's weight as well as other important parameters. As in any other operations, an intravenous infusion will be inserted, whether it is to provide the patient with the anesthetic or any other medication that may be required during treatment.
How to prepare for treatment and how is the anesthesia performed?
As with any surgery under general anesthesia, the body's reaction to the anesthetic may cause the patient to vomit during surgery. This situation is very dangerous, so it is advised to fast before the procedure. The recommendation is not to eat or drink for approximately 6 hours before the procedure begins.
In addition, the patient will be asked to perform a panoramic X-ray or CT scan (as needed) as well as a comprehensive clinical examination that includes blood tests, blood pressure measurement and ECG.
The patient will also be asked to provide his medical record as well as details regarding medications he is takes.
Before entering the operating room, the dentist will hold a team meeting with all co-specialist who will join the surgery in order to plan the procedure and in order to address any of the patient's special needs (if necessary).
The medical staff will then prepare the patient for treatment. This procedure includes sterile preparation, changing clothes and bathing in a private room if needed.
After preparation, the patient will enter the operation room, which is a part of the sterile area of the clinic. In the operation room, an infusion will be inserted into the patient's vein. This infusion will allow the anesthetic to be inserted and will be used by the doctor's as needed during the surgery.
Dental treatments under general anesthesia are performed in Dr. Averbuch's dental clinic in a sterile room with full monitoring of the patient's vital signs. The dental surgery is led by the clinic's professional staff which includes top dentists and registered nurses.
On the operating table the patient will wear an oxygen mask, then the anesthetic will be injected and the dental treatment will begin.
How does dental treatment under general anesthesia feel?
Patients describe different experiences before anesthesia however during it there are no sensations and the surgery passes by very quickly.
Some patients before anesthesia fear that "the anesthesia will not work", these fears usually disappear in a matter of seconds. When the patients wake up after surgery, most of them feel that they have just fallen asleep, and only a few seconds have passed since they lay down on the operating table.
There is usually no pain right after surgery because the anesthetics are still active. In some of the cases patients can leave the clinic after a few hours, in other cases patients have to stay in the clinic for longer supervision.
What dental treatments can be done under general anesthesia?
There is a wide range of dental treatments that can be performed under general anesthesia. The general anesthesia allows performing several processes in one treatment only as opposed to local anesthesia where it may take several treatments and sometimes even months.
Dental implants under general anesthesia
With general anesthesia it is easy to perform all types of dental implants including full dental implants in one day and dental implants such as all-on-4 or all-on-6 and specific tooth implants.
Sinus lift under general anesthesia
In sinus lift surgery, a bone is added to the upper jaw for future dental implants. When this surgery is performed under general anesthesia, it is possible to perform the loading of new implants on the same day. This process will reduce the amount of visits to the clinic.
X-rays for dental implants under anesthesia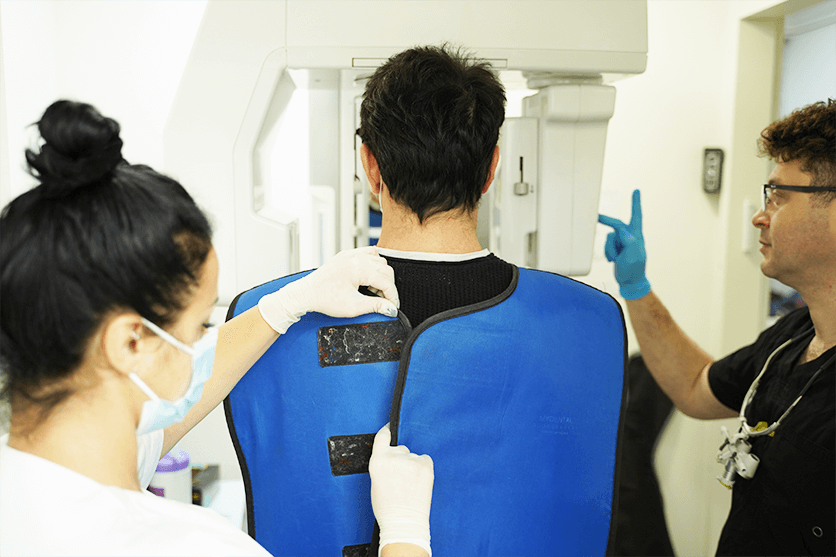 Tooth extraction under general anesthesia
Extractions of all kinds can be performed during anesthesia including multiple extractions. This process subsequently allows the implantation of a new set of teeth. The biggest benefit of this process is to avoid the feeling of the displacement process itself or the implantation process (if you choose to implant teeth immediately after the displacement).
Root canal treatment under general anesthesia
Root canal treatments can too be performed in the clinic under general anesthesia if scheduled in advance. The essential measurements are made before the treatment and adjustments and corrections are done while the patient anesthetized. At the end of the treatment the patient can leave our clinic after completing a full root canal treatment done during one visit only.
Close follow-up during every treatment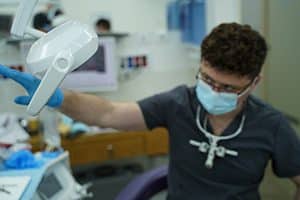 Orthodontics under general anesthesia
Straightening teeth or installation of a dental bridge can be performed under full anesthesia. Although orthodontics under anesthesia is usually performed among children, in some cases adults are advised to have orthodontic treatment done under anesthesia too, in case of extreme anxiety for example.
Dental plating under full anesthesia
During the anesthesia, the patient's teeth can be coated with porcelain veneers, Luminers and Luminates to give the patient an aesthetic dental appearance right at the end of the treatment.
Who is dental treatment under general anesthesia not recommended for?
As with all surgeries, in some situations it is not recommended to advise patients to undergo surgery that involves full anesthesia. Other treatment alternatives should be explored in such cases, especially if the patient is elderly, suffers from chronic diseases, heart or autoimmune diseases.
What should be done after treatment?
After treatment, the patient should avoid drinking and eating for a few hours. Eating or drinking after anesthesia can lead to vomiting due to residues of the anesthetic in the bloodstream. After a few hours the patient can eat and drink according to the dentist's instructions.
It is also recommended avoid activities that require high concentration such as driving, strenuous exercise or long-distance walks for at least a few days after surgery.
At the end of the treatment, we will provide you with a hand-out which includes explanations and guidance for the hours and days after treatment, as well as full and detailed instructions by Dr. Averbuch and his team.
Do you want to talk to Dr. Averbuch about a treatment you need to undergo that you considering having under general anesthesia?
Call 072-394-3153 or fill out the form below and one of our clinic representatives will get back to you to schedule an appointment.